Een speciale plek ruimen wij  hier in voor ons lied met/over straatzanger Jan de Roos.
Stand out from the Crowd ft. Jan (de) Roos – Kapsonic (Hanneke Kappen Harrry Kappen)
Jan de Roos was straatzanger. Hij kwam uit Ureterp in Friesland en was in de jaren 50, 60 en 70 wereldberoemd in Groningen, Friesland en Drenthe. Door sommigen werd hij Jan Roos genoemd, officieel was het de Roos.
Aanvankelijk was hij landarbeider, hij werd door zijn collega's niet voor vol aangezien. Hij besloot al snel als zanger zijn loopbaan te vervolgen, als  Kunstenaar met een hoofdletter K, zoals hij zichzelf graag noemde.
Met de bus reisde hij stad en lande af om in de straten van dorpen en steden zijn zangkunsten ten gehore te brengen. Gekleed  in een zwarte slipjas, zwaar behangen met medailles en oorkondes en bewapend met een stok waarmee hij vervaarlijk zwaaide.
In het Noorden is de naam Jan de Roos en de herinnering aan zijn stem en wonderlijke verschijning tot op de dag van vandaag nog springlevend, al is hij eind 70er jaren overleden.
Historische opnames van zijn magistrale stem hebben gediend als basis voor Stand out from the Crowd. Het is een ode geworden aan de eigenzinnigheid.
De link met het lied Jesus' blood never failed me yet, met de onbekende straatzanger uit Londen, is al snel gemaakt.
Jan reisde vroeger met de bus tot waar hij gaan wilde. Met dit lied en het filmpje op YouTube hopen wij dat hij zijn reis verder mag gaan vervolgen.
"Stand out from the crowd" feat. Jan de Roos is ook te vinden op onze kerst ep.
Google play: https://play.google.com/store/music/artist/Hanneke_Kappen_Harry_Kappen
iTunes: https://itunes.apple.com/us/album/stand-out-from-crowd-single/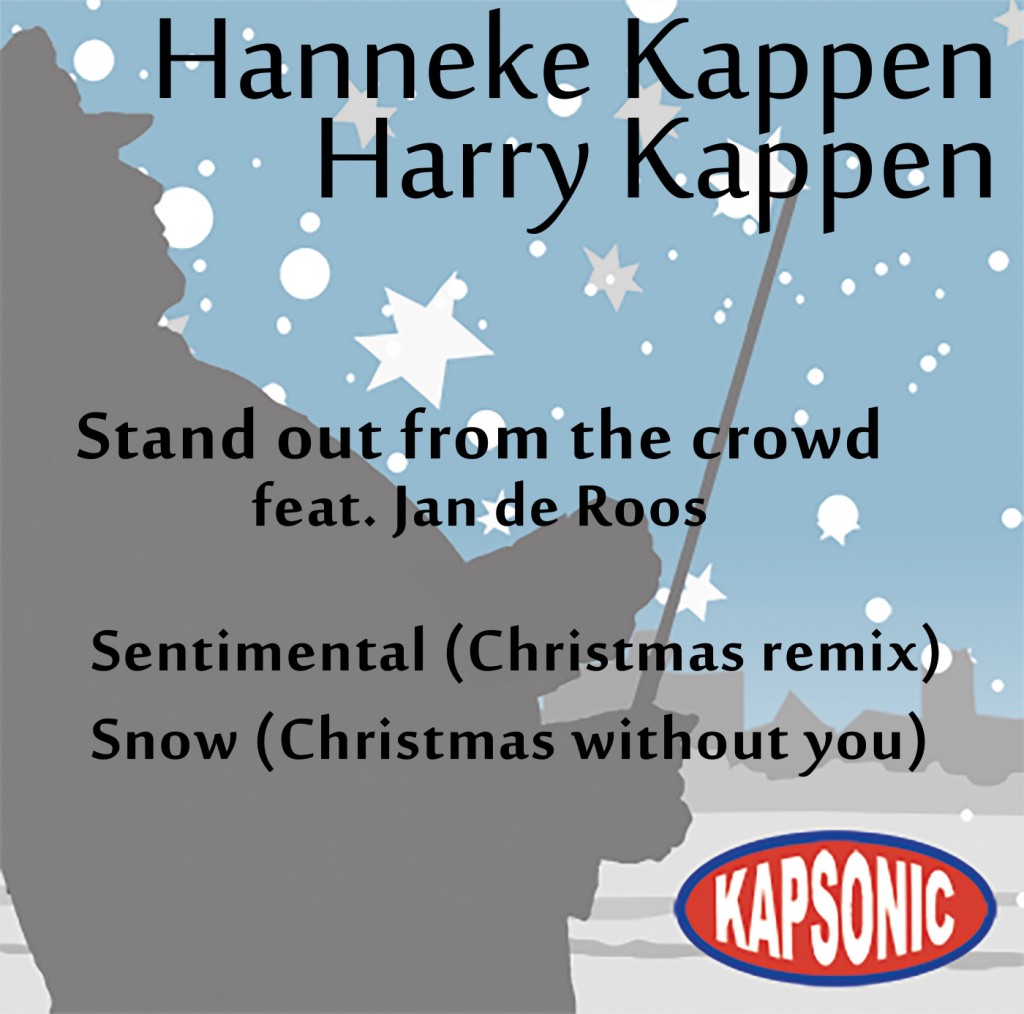 Three wonderful brand new Christmas songs by Hanneke Kappen and Harry Kappen. KappenenKappen are Dutch composers/producers/musicians.
-"Stand out from the Crowd" is a winter song feat. Jan de Roos, a legendary streetsinger. He used to sing in the streets of cities and villages in the North of Holland. His voice is unbelievable. Hanneke sings the story of his life. The song is inspired by "Jesus Blood Never Failed Me Yet" by Gavin Bryars, Tom Waits and an unknown streetsinger from Londen.
– "Sentimental, Christmas Remix" is a love song that should be listened to, lying on fur, in front of a fireplace, together with your loved one.
-"Snow" is a brand new Christmas song, that longs to be joined together with the great Christmas classics. Christmas without you is no Christmas at all.